ChiliProject is not maintained anymore. Please be advised that there will be no more updates.
We do not recommend that you setup new ChiliProject instances and we urge all existing users to migrate their data to a maintained system, e.g. Redmine. We will provide a migration script later. In the meantime, you can use the instructions by Christian Daehn.
Calendar links for previous/next month contains double escaped characters (Bug #557)
---
---
---
Description
In the "security audit" commit between 2.1.0 and 2.1.1 there was a change to calendars_helper.rb that causes the << and >> characters in the links to the previous and next months on the calendar page read "« July | September »" instead of "<< July | September>>".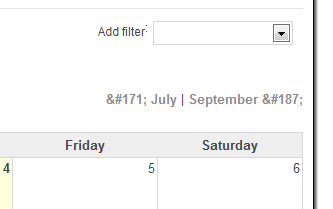 ---
---
History
OK, I think the text formatter replaced the characters escape codes with the actual characters, so ignore that and look at the image instead...
Thanks, this is fixed and will be in 2.2.0. I was being overly cautious in the security audit.
Target version set to 2.2.0
Assignee set to Eric Davis
Category set to User interface
Status changed from Open to Closed