ChiliProject is not maintained anymore. Please be advised that there will be no more updates.
We do not recommend that you setup new ChiliProject instances and we urge all existing users to migrate their data to a maintained system, e.g. Redmine. We will provide a migration script later. In the meantime, you can use the instructions by Christian Daehn.
Activity view too verbose (Bug #775)
---
---
---
Description
On the activity view, there seems to be activity entries for each time a file is downloaded, and the top forum post/thread appears each time an answer is posted to this thread (in addition to the activity entry for the answer itself). This is probably related to AAJ.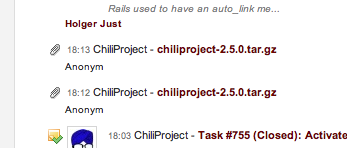 ---
---
History
Target version set to 3.0.0
Assignee set to Holger Just
Target version changed from 3.0.0 to 2.7.0
Status changed from Open to Closed